D.PES Report-The Perfect Cooperation of KEUNDO and S+C Inkjet Tex
Share
Issue Time

Sep 22,2015
Summary
From 2008, the equipment for soft materials began to undergo a change. With the prime time of hard
printing materials gone, most manufacturers of printing equipment start a fierce competition of price.
The profit of factories begins to drop endlessly, leaving the maintenance of equipment difficult and
passive.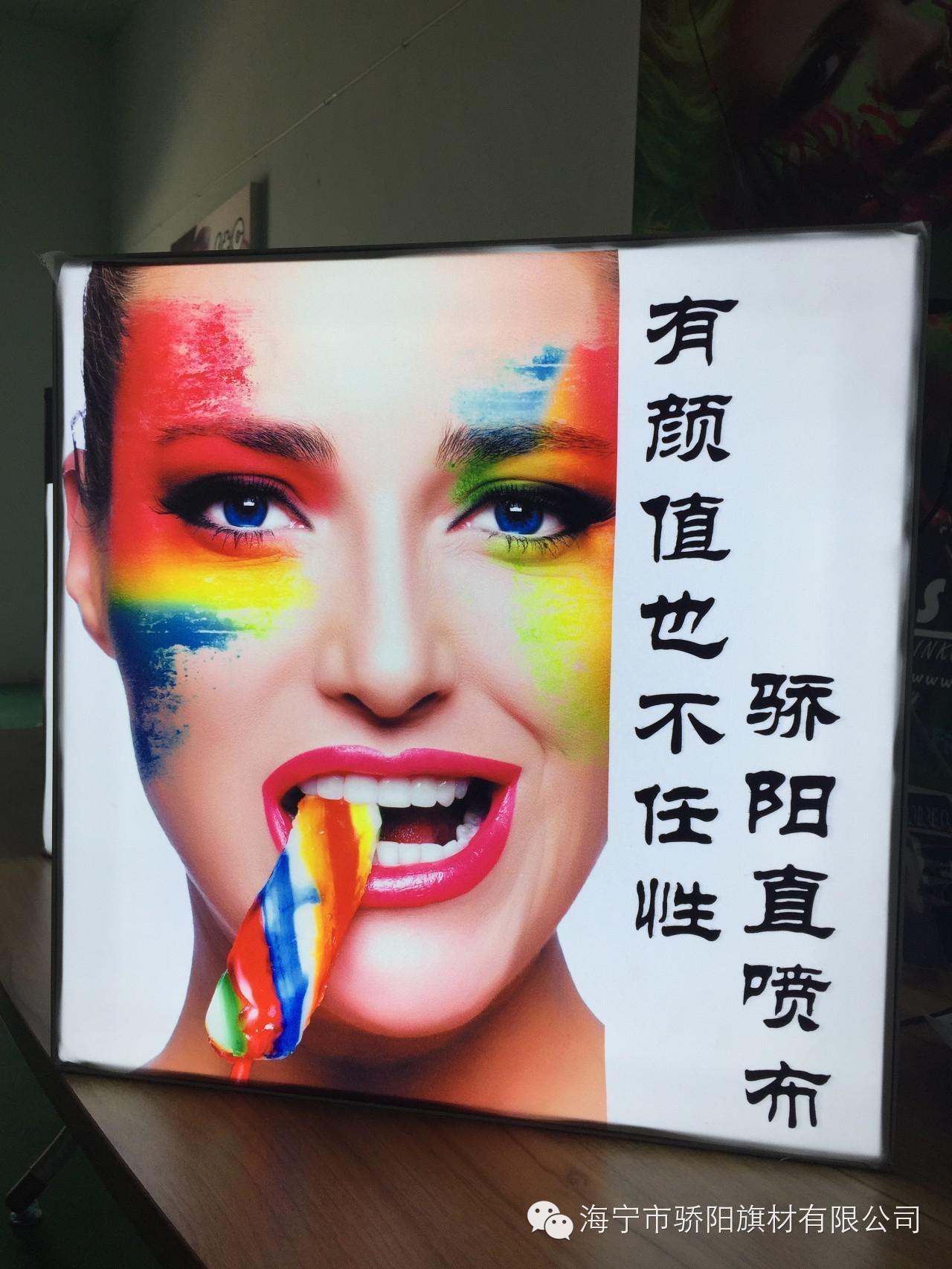 From 2008, the equipment for soft materials began to undergo a change. With the prime time of hard
printing materials gone, most manufacturers of printing equipment start a fierce competition of price.
The profit of factories begins to drop endlessly, leaving the maintenance of equipment difficult and
passive. When every manufacturer of printing equipment starts to produce digital printers for textiles,
this big trend began to become clear. As for the reason for making this printer for textiles, apart
from being environmental friendly, it is because making printing equipment for textiles can earn
profit, which is a pleasing amount, and it can stabilize old customers' pursuit to new products.
This time, we do a promotion and co-exhibit with the Korean equipment manufacturer KEUNDO. And we
improve both the printing and the final effect.

1.Outdoor flags

When the customers ask whether the double penetration of the flag fabric is achieved by double side
inkjet, the equipment from KEUNDO quickly explains it with 2 pass speed the concept of double
penetration by industrial head single side printing.

Good machine plus good supplier of direct printing fabric quickly answers the questions from customers,
and lets them know seeing is believing in advertising promotion. When you are wondering why soft direct
printing material take place of many traditional printing, you don't need to sigh because it is the
technical revolution needed by the era. Only by incessantly moving forward can it show the ownership of
the future. Besides, as for the problem of penetration of the fabric, this is really a big technical
problem. We can print and compare, and tell what is the double penetration product by an R&D
enterprise. The fabric used this time is JYQC-01(DTP). As for the problem of multi-penetration, I can'
t answer the question, maybe because I don't tell the front side from the back side.

2.The rising of stretch fabric

What is stretch fabric? Why do we use stretch fabric? This is a good question.If there is a product
which is light, free in shaping, washable when it is dirty and can be folded during transportation, it
is not impossible. It is proved after the advent of soft printing material.It owes to the advanced
technological revolution of the printing equipment. The soft material is like this: We design machines
according to the material, give up many old design concepts, get in touch with the customers more and
know what they need. The second large-scale cooperation between KEUNDO and S+C Inkjet Tex this time
also explains this.

The soft ceiling adopts the product of our company (hot-selling stretch fabric JYPS-17). It is light
and high-end, attracting a lot of customers deeply. The reason is there is a character in every fabric:
Neither side has light reflection like PVC, thus increasing 30° of viewing angle and one sixth more
chance of reaching a deal. Because the time and the place of the exhibition are very precious. If the
design and material you choose is wrong, all your effort will be in vain. It is not because your effort
is not enough, but your choice fails from the beginning. You don't need to frustrate, S+C will help
you with all our strength.

3.Fabric light box-new definition of high end

Nowadays if you participate in an exhibition without a decent light box, you are outdated. If you don'
t have a decent fabric light box, you are more outdated. And maybe there will be sighs from customers
because you delay their time to look for business and create profit, which has nothing to do with your
earnestness and passion.

The large fabric light box adopts our beauty backlit fabric, which is commonly known as quasi-3P
backlit fabric(JYBL-103). We don't complain about this name, after all it is a product based on the
process of 3P company. However, the difference is obvious. The surface of our product is more glossy
and clean, enabling higher printing precision. In fact, imitating and surpassing is also a thing we can
take pride in.

The salesmen that participate in D.PES this time is as follows. If you want to know more about the
exhibition, or fabric purchasing, you can contact them.

Scan the QR code and have a surprise.
Welcome to our booth and instruct.